Fickle has been a wonderful mother and all her puppies have left here to start their new lives.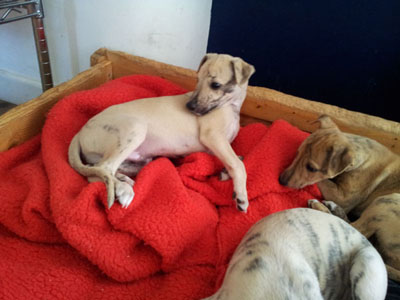 Having decided that Troy was the dog for Fickle as I judged him at the Houndshow 2012, it was frustrating that Fickle declined the honour until 2014 but they say good things are worth the wait. On July 4, she produced three dog puppies and two bitches.

Looking more like moles than whippets here but brindle puppies change colour in a most disconcerting way. The ginger bitch under Fickle's neck has stayed ginger but the others have all got progressively lighter.
At four weeks they started spending time outside.
And at five weeks, made a start with the first standy-uppy pictures. It has to be said, the boys are better at it than the girls at the moment ...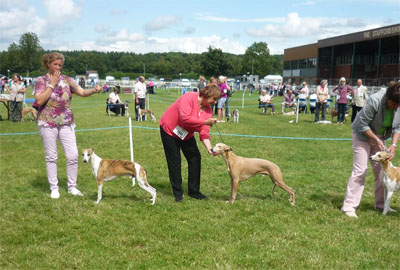 Unbeaten line up Houndshow 2012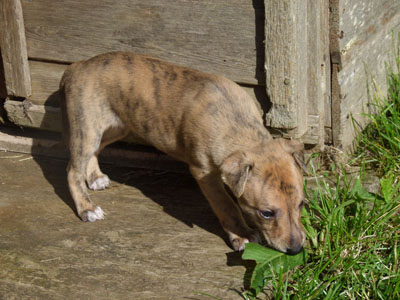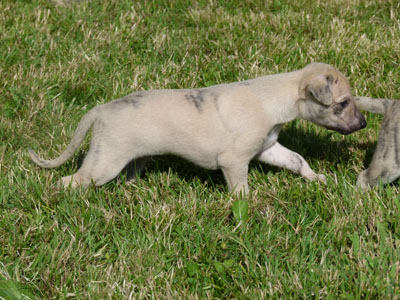 photo Catriona Ryan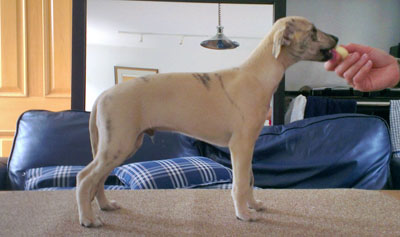 photo and right Katie Manners
Seven weeks old and I am preparing puppy packs for their departure at the weekend. Piper (above) is now in his forever home and known as Hiccup.
Ginger (right) stayed for a while, went to a couple of shows, made some friends then left for a new life as an agility whippet. Judging by her effortless leaps onto furniture and worktops, she will be good at it!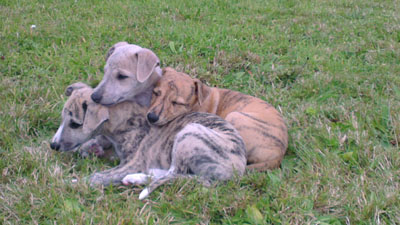 photo Katie Manners