morgan
click for Moonlake Morgan pedigree

2014

After a difficult summer last year, recovering from a dog attack, Morgan returned to form at Crufts.

photo Katie Manners





photo Katie Manners


photo Katie Manners

2013


Not to be outdone by his sister, Morgan also gained his stud book number by winning a big Limit class at WELKS. After that, it was another trip through the tunnel to a French international ch show to gain another 'excellent' so he could compete for the CACIL lure coursing in Belgium the following week. Not surprisingly, after all that travelling, he didn't win but he did well enough to be half way to an FCI working certificate.



photo

Catriona Ryan
2011 September 18 at Kingsclere
Morgan had a go at lure-coursing and loved it!
During the remainder of the season, he turned in consistently high scores.
2012: another trip through the Eurotunnel to be measured (50cms) for his FCI coursing licence and run a spectacular clearing trial with his sister, Fickle which brought a round of applause from the spectators and "best course of the day" from the judges.
Morgan followed this up with a first place in PGD at the NCWC ch show which went some way to saving his skin when he trashed my car at the next lure coursing meeting (where he also won points).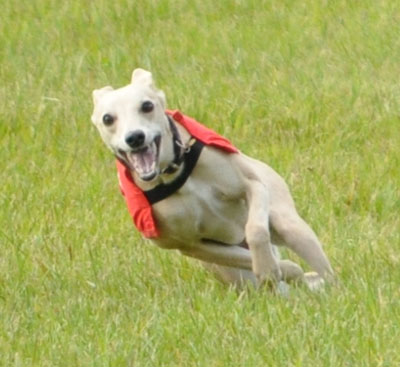 photo

Catriona Ryan




2011 Now old enough for a passport and trips abroad, Morgan set off for the World Show in Paris, accompanied by his mother and sister. The show itself was a nightmare of poor organisation and squalor but Morgan did us proud, being placed third in the Junior class, ahead of some well known international exhibits. When I got home, I was delighted to be sent some photographs by people who had watched the class. right: On the table at the World Dog Show photo: Eija Lähdesmäki
below: In the line-up. photo Collina.ru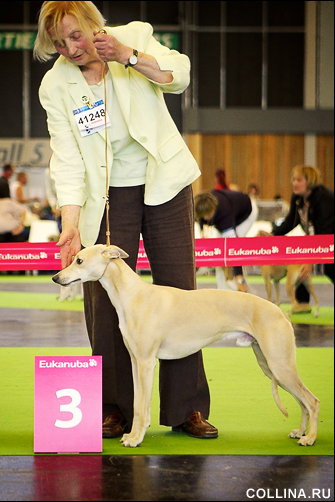 By Monday, the dogs clearly wanted to go home
so I abandoned the leisurely trip I had planned and drove straight to Calais, through the tunnel and home to the Cotswolds that same evening. It had been a great weekend for the Moonlakes - Bowie had become a German Veteran champion and Fickle had been graded excellent at all three shows and placed third on the Saturday. Morgan celebrated his wins by chewing up the van radio but somehow, I forgave him - again.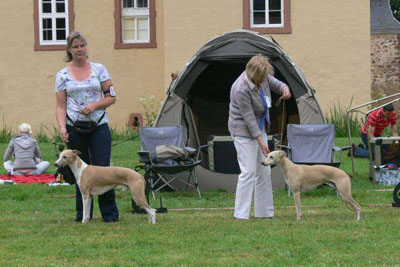 Bowie and Morgan German Veteran and Junior Champions at Eichs 2011 photo Mirka Sarcochova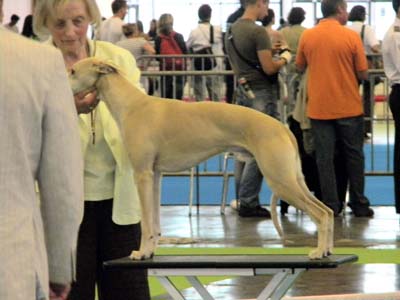 From Paris, we went to Germany for two shows
impeccably run by the German Whippet Club in
beautiful surroundings. Everyone was so friendly
and helpful, the stress of the day before in Paris
just melted away. Morgan showed his socks off
and was rewarded with a win on both days. This
gave him the title of German Junior Champion!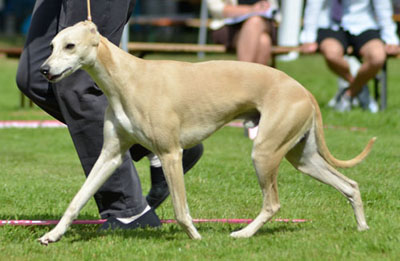 photo van Hooydonck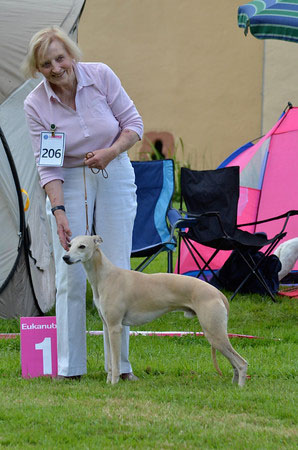 photo van Hooydonck

One of Favour's "multinational" litter by Int Ch Golden Peanut's Quattro, Morgan has cost me more than any other whippet I have ever owned because I was slow to realise that not only could he jump up onto the dresser where I used to put anything I wanted to be out of reach of puppies but he could also undo the zip of my laptop case.
The laptop itself was the single most expensive thing he destroyed until he started on the car, followed by the last of the Dartington glass, all my dvds, videos, eight pairs of glasses, a handful of £20 notes and more. If Morgan needed veterinary attention it was only on a bank holiday Sunday and his rabies injection and titre for his passport had to be done twice ...
The picture on the right gives a hint of how he got away with it.


photo and watercolour effect by PAULINE OLIVER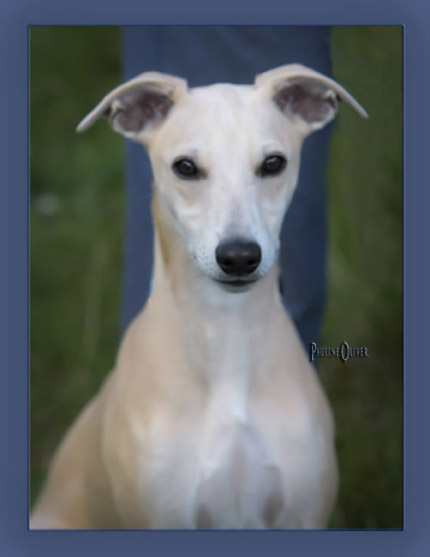 Needless to say, when Morgan won his classes at his first two championship shows, under Jill Chapman at NEWS and June Cox at Whippet Club of Wales, all was forgiven.
Here he is at 8 months at the Whippet Club of Wales show.
photo www.Dewerstone.com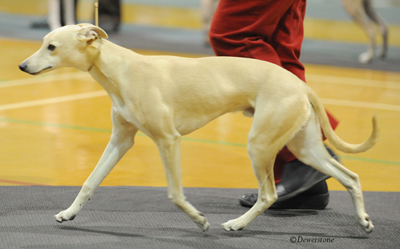 At 10 months and despite the distraction of his sister in an adjacent ring, Morgan was placed second in the puppy dog class at Crufts in 2011. Judge Dagmar Kenis Pordham wrote "Overall a lovely old fashioned type of Whippet, & this said as a compliment. " at the end of her critique of him which gave me great pleasure as maintaining the Moonlakes as "old fashioned" in type is something for which I strive.
photo Tinne van Hooydonck