mazda - fickle
1 Res CC 1CACIL 1RCAC
click here for Moonlake Mazda pedigree
2013

In July, Fickle exceeded all expectations by winning the RCC and Best Racing/Coursing in Show at the East Anglian Whippet Club championship show.


photo Colin Wilson



The previous winter, where snow again interrupted the whippets' fun and games had led to a major disappointment when Fickle missed the chance of a long planned litter but she made amends by winning her stud book number at the Whippet Club show in April and followed that with a RCAC at the French Int ch show she attended to qualify for any future lure-coursing CACILs after her unexpected win last year.

The following weekend, excitement ran high as at lunchtime, she was second in the Belgian lure coursing results. Sadly but not suprisingly, she was neither fit nor fast enough to beat the bigger, top scoring bitch against whom she ran in the second round but she did me proud and earned compliments from one of the judges.

Opposite: in action on the day, (top) ventre a terre but in the air! And (below) getting close up and personal with the lure.







PHOTOs TINNE VAN HOOYDONCK
2012
After a winter of rural pursuits, Fickle started the year well, winning two classes at the NWA open show. We then went to Belgium where she was measured (under 47cms) for her FCI racing/coursing licence and together with her brother ran a spectacular trial at Vien.
Back home, she won the Special Yearling class at NCWC Ch show and the following week was the
second highest scoring whippet at the BSFA lure coursing.
Back through the tunnel in May to get an "excellent" at a French FCI CACIB show before her first run the following weekend at an international championship lure coursing event in Belgium where to my joy, she won the bitch CACIL - the first step to being an international lure coursing champion. Now she needs to get another show "excellent" and after a year and a day, win another CACIL in a different country - which could be a step too far.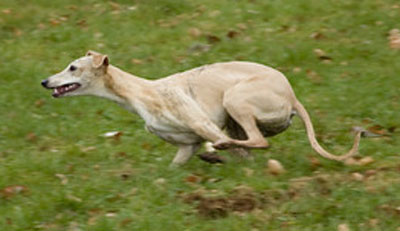 photos above and right Tinne van Hooydonck
This intense interest in all around her can make Fickle quite a challenge to show. The slightest rustle from the ringside demands immediate investigation and her interest in all the other dogs makes her oblivious to any attempt by her handler to gain her attention. However, in spite of some less than fluent performances, she did well in her first season, being in the cards at all but one championship show she attended, including Crufts 2011. Later that year, she made the trip to the World Show where she gained an excellent and in Germany, the same weekend, two more as well as a placing.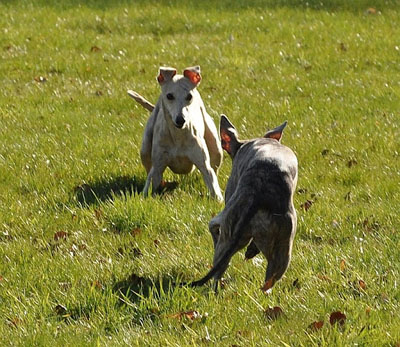 photo Catriona Ryan
Fickle, it has to be said, is a very busy little person. If she sees her brother relaxing quietly in the sun, she cannot resist stirring him up until he plays with her. Out in the paddocks, if she is not inviting all and sundry to a game, she is dashing from one mousehole or molehill to another, willing their inhabitants to be so unwise as to come out.