Five days after winning his title, Making a Splash was killed in an accident. This devastating blow was slightly eased when I was able to buy a bitch from his newly born last litter, ex Copsebury Candelabra. Copsebury Lightly Splashed was tiny at eight weeks so was named Farthing - and promptly grew to be the tallest bitch I have ever owned. Her elegance and quality got her ring career off to a flying start with a first at the Whippet Club and a second at her first Ch show, NEWS in 2002. The following year, she won a Reserve CC from Junior and some other hotly contested classes after which, an encounter with barbed wire took her out of the ring for months.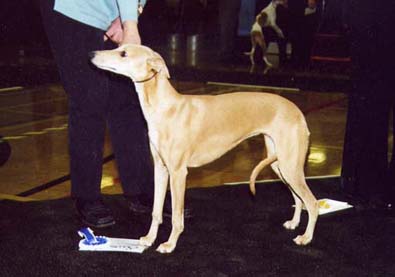 Photo Sarochova

Autumn 2003 and Farthing was old enough to course, proving herself the fastest bitch I had ever owned. In her first season, she was never led. Alas, she has inherited her father's determination to run regardless of injury or obstacle which has severely disrupted both show and coursing careers.
2005 saw the hunting ban which outlawed coursing and Farthing's chance of making a name for herself in the sport at which she excelled was lost.
Neither of us had much appetite for the show ring: Farthing flatly refused to sit on a bench by the time she was three so maternal duties moved up the agenda.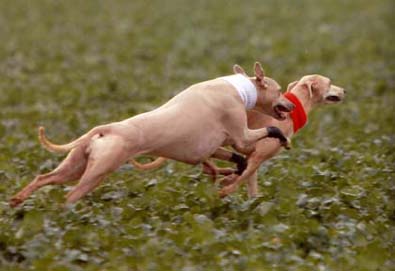 Photo Nick Ridley

In 2006, Farthing whelped a litter to Mackintosh. After she had produced four dogs, I said, "Come on Farthing, do us a favour, let's have a bitch now" and brindle Favour arrived. The litter was a joy to rear and Farthing a devoted and competent mother. When it came to choosing a male puppy, torn between Frosty and Fizz, I finally opted for the pale, glamorous Frosty over his more effervescent brother.
Farthing's second litter, by Multi Ch Airescot Ruby Rascal can be seen on the 2008 puppies page.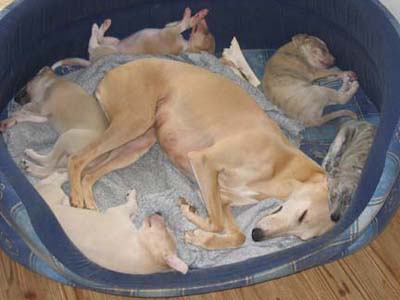 Farthing's litter by Mackintosh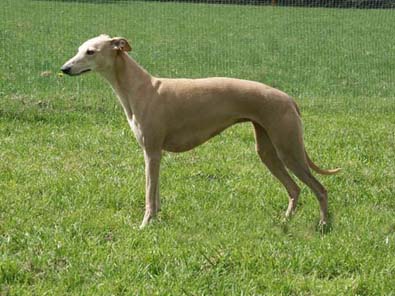 Photo Van Hooydonck